Athens - New Alimos Marina
"New Alimos Marina" in Athens is located at the South West of Athens 15 Km from the city centre, 8 Km South of Piraeus port and 40 km from El. Venizelos International Airport. It is connected by a good transportation network of tram, bus or taxis, with stations 500 meters from the Marina.
The Entrance coordinates of the Marina are: East: 23º 01′ North: 37º 52′
Sailing out from "New Alimos Marina" you may discover the Saronic Gulf islands and the east coast of Peloponnese peninsula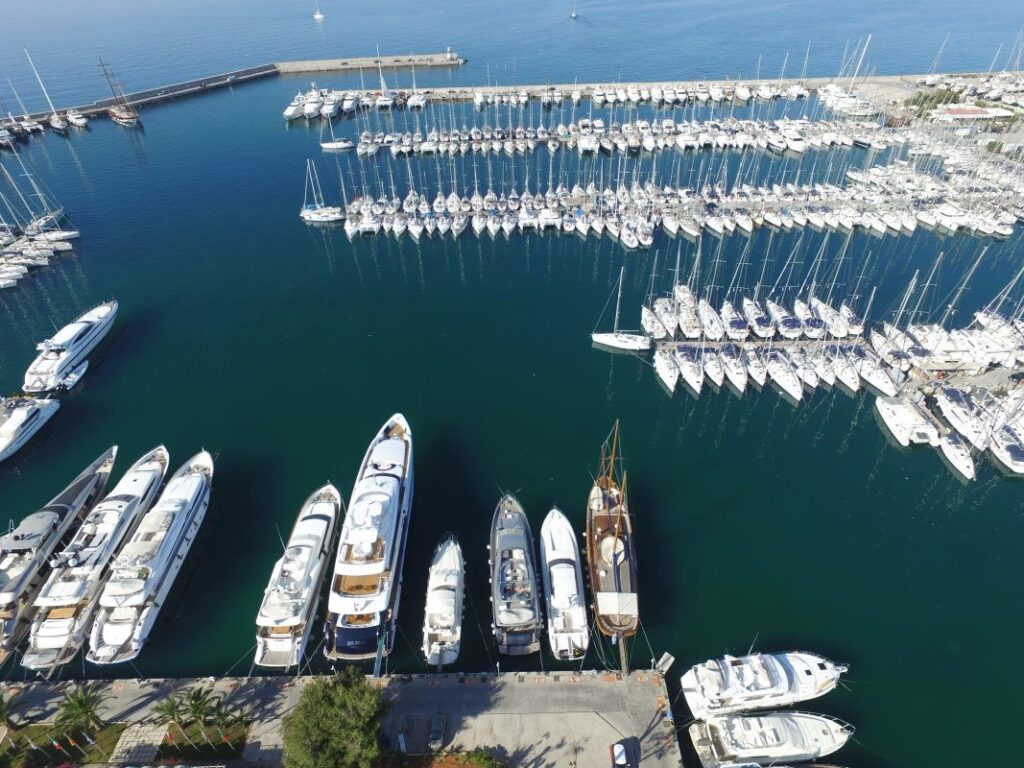 Saronic gulf
The Spring from mid-March to May, is mild, and becomes progressively warmer, sunnier and drier over the weeks. Summer on the other hand, is hot and sunny from June to mid-September. The Meltemi, the wind from the north-west, blows by mid-May, cooling the air, but less often than on the islands of the central Aegean Sea. The maximum temperatures typically remain around 30 °C (86 °F); occasionally, short periods of intense heat can occur, with highs around 36/38 °C (97/100 °F). Autumn which is from mid-September to November, is pleasantly warm and often sunny at first, then it gradually becomes milder, while the rains becoming more frequent.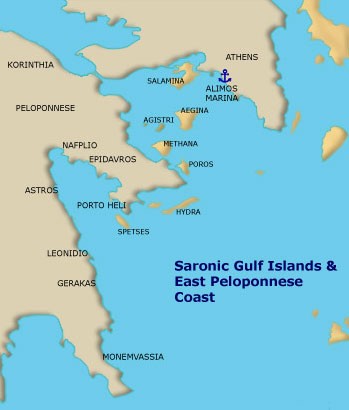 1 WEEK SAILING

Alimos – Epidaurus 30 n.m.
Epidaurus – Poros 20 n.m.
Poros – Hydra 13 n.m.
Hydra – Spetses 15 n.m.
Spetses – Hermioni 10 n.m.
Hermioni – Aegina 33 n.m.
Aegina – Alimos 17 n.m.

2 WEEKS SAILING

Alimos – Aegina (main port) 17 n.m.
Aegina – Epidaurus 14 n.m.
Epidaurus – Poros 20 n.m.
Poros – Hydra 13 n.m.
Hydra – Porto Heli 18 n.m.
Porto Heli – Nafplio (Nafplion) 23 n.m.
Nafplio (Nafplion) – Leonidion 26 n.m.
Leonidion – Monemvasia 30 n.m.
Monemvasia – Kyparissi 18 n.m.
Kyparissi – Spetses 20 n.m.
Spetses – Hermioni 10 n.m.
Hermioni – Aegina (Perdika) 30 n.m.
Perdika – Cape Sounion (Sounio) 27 n.m.
Cape Sounion (Sounio) – Alimos 22 n.m